A summer and winter tourist resort in northwestern Slovenia near the borders with Austria and Italy, Kranjska Gora touches Triglav National Park to the south. The imposing peaks of the Julian Alps, the vast forests stretching from Mojstrana to Ratece, and the ski areas among them attract hikers, alpinists, bicyclists, and skiers.
Hotel information
Accomodation at special prices guaranteed for WONS 2010 can be booked by participants directly here at any of the hotels listed below.
Prices are guaranteed until 31 december 2009. Please indicate "WONS 2010" in the "Notes" field of the web form to have access to the special pricing.
A 30% pre-payment or a credit card as a guarantee is required when booking; the fee will be settled directly at the reception desk upon arrival.
All the listed hotels are within a 200m distance from the Conference Venue (Hotel Larix).

Hotel Larix**** (CONFERENCE VENUE)
Single room or double used as single room: 136,35 EUR per person per day
Double room: 90,90 EUR per person per day
Hotel Kompas****
Single room or double used as single room: 122,85 EUR per person per day
Double room: 81,90 EUR per person per day
Grand hotel Prisank****
Single room or double used as single room: 112,05 EUR per person per day
Double room: 74,70 EUR per person per day
Appartmets Vitranc*** (without breakfast)
Appartment for 2-4 persons: 130 EUR per day
Appartment for 3-5 persons: 153 EUR per day
Hotel Alpina***
Single room or double used as single room: 95,85 EUR per person per day
Double room: 63,90 EUR per person per day
Included in the price
Bed & breakfast
10% discount already included in the price
Free use swimming pool in Hotel Kompas and Aqua Centre in Hotel Larix, Kranjska Gora
Free entry to the fitness in the Vitranc multi-purpose hall, Kranjska Gora
Free entrance ticket to Casino Korona every day and a free 4 € coupon for 4 EUR Monday to Thursday
Hotel Cancellation Policy
59 - 46 day before the beginning: 30% cancellation charges
45 - 31 day before the beginning: 50% cancellation charges
30 - 21 day before the beginning: 60% cancellation charges
20 - 14 day before the beginning: 70% cancellation charges
13 - 7 day before the beginning: 80% cancellation charges
6 - 1 day before the beginning: 90% cancellation charges
24 hours before the beginning: 100% cancellation charges
How to get to Kranjska Gora
Although the Zgornjesavka valley is safely embraced by the peaks of the Karavanke Mountains and the Julian Alps, the valley is easily accessible.
No more than half an hour's drive will take you to the motorways in Italy (Tarvisio), Austria (Villach) or Slovenia (Karavanke tunnel). The nearest railway station is not far at all and there is less than an hour's drive to the Ljubljana International Airport.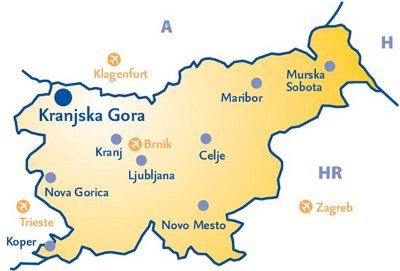 By road
If in Slovenia, the Ljubljana-Kranj-Jesenice-Kranjska Gora road will lead you to your destination; from Austria, the road leads from Villach either over the Korensko sedlo border crossing or the Karavanke tunnel, inwhilst from Italy, the road will take you through the border crossing at Rateċe.
By train/bus
The nearest train station is at Jesenice; there, you can board a bus for another 30-minute drive to Kranjska Gora, which is only 20 km away. There is also a train station in Tarvisio, Italy, and in Villach in Austria. From here, you can take a taxi, as both stations are no more than 20 kilometres away.
By plane
A 45 minute drive from Ljubljana Airport (66 km); a mere 40 minute drive from the airport in Klagenfurt (Austria) and an hour and 40 minutes from the airport at Trieste (Italy).
Transfer from Ljubljana Airport
Conference attendees are advised to land at Ljubljana Airport. From there, the following transportation options to the hotels in Kranjska Gora will be available for fixed prices. In order to register for the transfer, please provide your travel schedule using the Transfer Order Form. The following options are available:
Private transfer CAR: 60 € / one way (1 - 3 persons in the car) - NO WAITING TIME
Private transfer VAN: 79 € / one way (4 - 8 persons) - NO WAITING TIME
Shuttle bus: 18 € per person (min. 4 persons, max. waiting time 80 minutes)
Your registration will be confirmed by the transportation company, which will also contact you in case further details or arrangement are needed. Also, their driver will wait for all registered participants at the airport with a sign: WONS 2010.
VISA Requirements
Before booking your trip to Slovenia, make sure you satisfy the Visa requirements for that country. Please visit the Visa Information page. Should you require an invitation letter, please email the General Chairs.
Further information
General information about Kranjska Gora
Holidays in Kranjska Gora
Ljubljana Airport
Taxi fare calculation